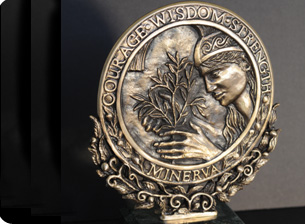 Minerva Award winners have all served, each in their own way, on the frontlines of humanity. Each of these remarkable women recognized a problem or challenge, identified a solution, and pursued it with courage, perseverance and compassion.


The Minerva Awards®
Created in 2004 by California's First Lady, Maria Shriver, The Minerva Awards®, named after the Roman Goddess Minerva, who gracesMinerva Awards Seal the California State Seal, honor women who have stepped forward in the spirit of Minerva and changed our world with their courage, their stregnth, and their wisdom. The awards celebrate women who work "24/7 on the frontlines of humanity" to make this world a more compassionate, tolerant and just place. These women have created lasting legacies that they are passing on to others.
Minerva Award recipients have made extraordinary contributions in the areas of the Arts, Health and Sciences, Community Activism, Human Rights, Business and Technology, Motherhood, Innovation, Education and Finance.
The 2008 Minerva Award recipients will be announced at The Women's Conference in Long Beach on Wednesday, October 22, 2008. Each Minerva Award winner will receive a statuette designed and created by California artist, Michael De Medina.
The achievements of The Minerva Award winners are chronicled in a permanent, Conference-funded exhibit at the California Museum for History, Women and the Arts in Sacramento and have become part of California's official archive.
The Nomination Process
Minerva Award winners are nominated by the Minerva Nominating Committee, which this year has 2 men, 3 past Minerva winners and a formal body of 25 geographically, ethnically and professionally diverse women who work together for months to research and vet potential candidates. After several months of research, the committee presents its finalists at an annual luncheon event and then Maria Shriver selects the five winners.
About Minerva
It is fitting that our state seal features Minerva, the Roman Goddess of Wisdom. With her helmet, Minerva is a tireless warrior; without it, she is the goddess of peace. She is symbolic of the multiple roles women play in the lives of our families and communities and in the lives of Californians.
About The Minerva Award Artist
Artist Michael De Medina, sculptor, jeweler, and craftsman, has designed the Minerva Award statuette for 2007 and beyond. In addition to his work for The Women's Conference, he has designed and produced scultptures and gifts for corporations such as GM, Max Factor, Sperry Rand, Phillip Morris, AT&T, 20th Century Insurance CO., Mattel Toys and Fluor Corp. His pieces range from jewelry in precious metals to architectual scultptures, to life-size bronze por­traits. Michael was commissioned to produce the 14k gold pins that were worn by President Reagan and Chairman Gorbachev at the 1987 Washington, D.C. Summit. Mr. Medina has also designed and created scultptures and movie props for such films as Ghostbusters, Dead Ringers, and countless television shows and commercials.